This was a project I wanted to do back in 2007 but found the plastic backing almost impossible to remove. There weren't screws or rivets to remove!
That was back then and nobody was trying to do the same. TODAY, however, other people have had more luck with their chairs. So I thought I'd revisit the project and see if anyone's been able to remove the back of a chair similar to mine.
I stumbled on Queen of DIY's great tutorial on how she reupholstered her chair:
Then I found Jessi over at Practically Functional and her tutorial:
That's encouraged me to revisit this conundrum. Maybe it is possible to reupholster my drab office chair!
My story
I've kept switching out chairs in the search of an office-y chair. One with castors. I've used a French chair, a 1940s wooden chair and bamboo chair.
I've stuck with this chair because it's on castors and adjustable height of the seat. Six years on from the first time I complained about its general ugliness has rendered the existing upholstery is tired and worn.
I dug through my stash of fabric and selected some happy upholstery weight fabric that I think might go nicely with the yellow and add a touch of happy to my home office space:
A few days ago and today, I tried again to manhandle the back of the seat so I could upholster the back, and to no avail. No screws, no possible way to get it out.
Jessi from Practically Functional said her plastic backing just snapped off the cushiony bit, which makes is so simple to reupholster. But mine doesn't. I tried. My husband tried.
See the huge crack?
I was also going to use Rust-Oleum Sun Yellow to spray paint the ugly black plastic bits.
Oh well.
But because the chair refused to be taken apart, this project had to come to an abrupt standstill. I'll have to wait till I can finally replace it with something pretty wonderful like the EA217 Eames office chair or the Eames lobby chair, in yellow.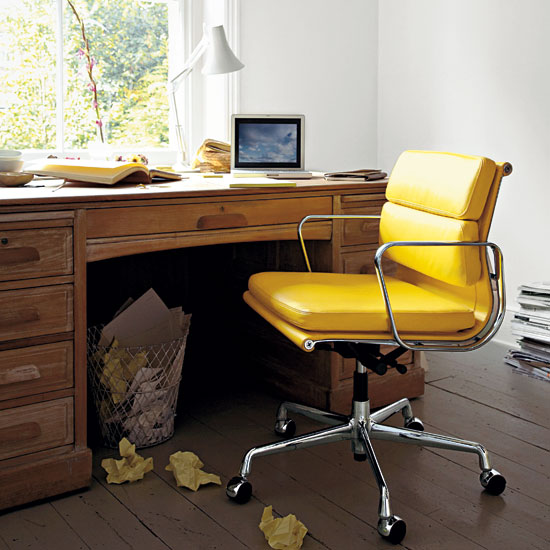 See if you can breathe happy into your space by upholstering your office chair. Read those inspiring blog posts above for ideas and techniques. Hope your chair works better with you than mine!
Looking for an office chair I can work on.