Ever since spotting one superb specimen in White Collar, I've wanted my own indoor glasshouse, or terrarium (large) or wardian, as my research has informed me.
On White Collar, El and Peter Burke have one in their living room:
I thought that its first appearance was only in Season 4-5. But in going back at the Season 1-3 episodes, it's been there almost from the Pilot episode! Reason I wasn't captivated then was because you couldn't really see it back then:
It was tucked away in the corner and that corner wasn't lit or bright. Plus it had a thick woolen scarf draped across it all the time.
There were alot of plants near it too, very busy corner.
Anyhoo. About that indoor greenhouse.
When I get to watch White Collar episodes, I keep thinking, oh yeah, I want me one of those indoor greenhouses. But I never seem to stumble on one when I'm out…
We went to IKEA two nights ago and saw the IKEA Socker for AUD$19.99.
Rather sweet, but it didn't have a stand (I really want a freestanding one), didn't look and feel sturdy. So I passed on getting one.
But I did come home and went online to see if I could buy one… Wow they are NOT CHEAP!
Eighty dollars more buys you one with a stand:
I'd *fill it with my miniature maidenhair ferns, dwarf fiddle figs, more ferns, button ferns, a pretty rose cyclamen…
*HPotter provides a helpful list of suitable terrarium/wardian/glasshouse plants:
Rhizomatous begonias (miniature)
Rex begonias (miniature)
Cane begonias (miniature)
Selaginella mosses of all types
African violets
Streptocarpus
Sinningia pusilla
Episcia
Ivies (miniature)
Muehlenbeckia complexa
Peperomia
Miniature ferns
Miniature orchids
Paphiopedalum
Masdavallia
Bromeliads
Ficus pumila & baby's tears
Tetranema (Mexican foxglove)
Carnivorous plants
Viola hederacea
Marantas
Neoregelia
Pilea
Artillery plants
Coleus
Fittonia (nerve plants)
Cyclamen
Violas
Mini hostas
Helxine (baby's tears)
I discovered today a beautiful indoor houseplant called the "string of pearls". It's a succulent that enjoys a sunny spot in your home:
Glasshouses across the pond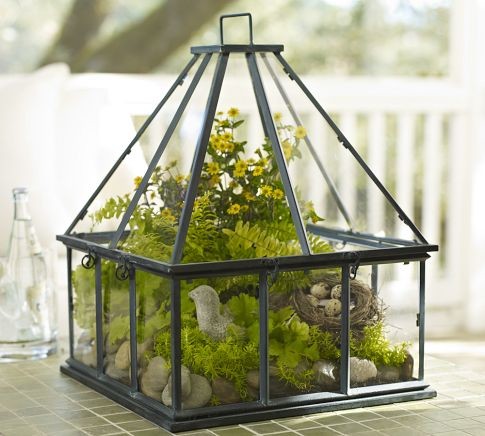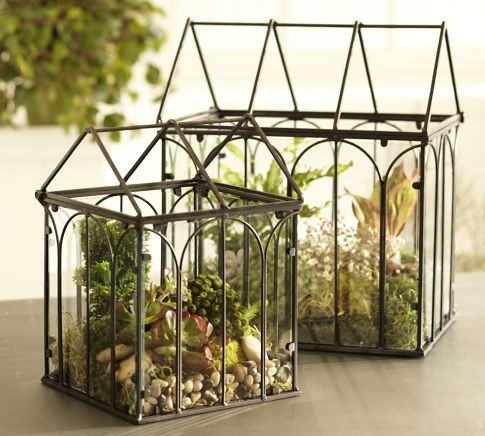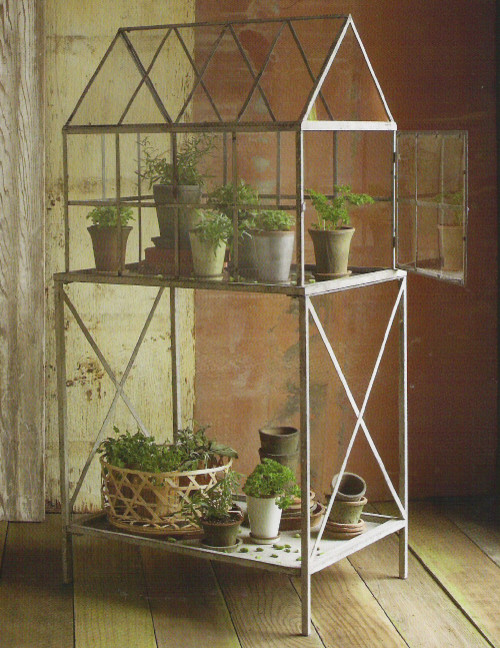 Anyone here know where to score a beauty in Australia? Preferably on a stand and clear glassed.
Btw in the next few days, I will be doing a "White Collar: Let's Look at El's Burke's home and kitchen" feature soon :)