For a while now, I've wanted to upcycle a cocktail cabinet to serve as a dressing table for my bedroom. Blame it on glamourous 1930s movies like Miss Pettigrew Lives for a Day and the lighted jewellery closet in The Tourist. (Plus, it was a way to gain for myself a cocktail cabinet. But we're not frequent drinkers, so using one for alcohol would be a total waste of valuable floorplan real estate.)
Now, having turned 40, I've worked out a few things about myself. I don't like vanilla or rose scents (too cloying). My current fav is the Tom Ford Grey Vetiver! I definitely prefer sweet potato over potato. And I don't like sitting down at dressing tables, putting on make up and perfumes. I dress rather quickly, grab my bangles, earrings, beads, rings, dash of perfume and I'm out the door! My makeup is non-existent minimal.
I knew where this imaginary cocktail cabinet dressing table was going to go; against my absolute favourite wall in the house. The verdant green wall right in front of our bed. And it was either going to be a beautiful maple or birch creation (bye, bye, kidney) or in a candy colour.
I kept looking and looking online at beautiful pieces like this beautiful walnut and curly maple jewellery cabinet from Custom Made: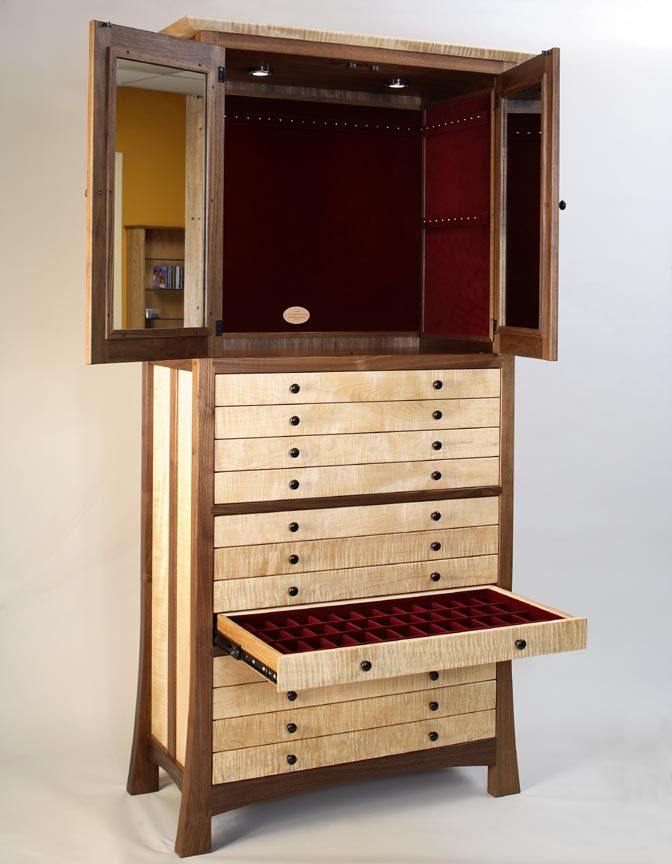 (I am also very much (still am) enamoured of beautiful Chinoiserie cabinets.)
Of course, those beauties were way out of my budget and I wanted to keep my kidney for a seachange mansion. Plus, I wanted to be able give my DIY-muscles a work-out. I had been feeling the urge to rework something more substantial than chairs and tables for a change. And I kept coming back to 1920s cocktail cabinets.
1920s chinoiserie-style cocktail cabinets tended to be much more expensive than the 1940s versions. After roughly two years of looking, I finally found one a 1940s piece that was affordable. It had doors which were book-matched, pretty legs, sturdy and the doors open and closed smoothly.
The previous owner placed this cocktail cabinet next to the only window in her home with direct sun; parts of the cabinet had not weathered well. Sides had split and the top had warped.
On the upside, I love the vintage cabinet door handles with the roses and leaves. I knew that the door handles had to be special. Not modern ones. Neither am I enamoured over the glass/crystal knobs. These handles would have never been cleaned in almost 60 years. They were dust and grimy.
I also liked the inside of my newly acquired cocktail cabinet. It was veneered in maple and would have been very pretty new. But it was very worn and the veneer had come off in multiple places.
Another big plus for me: the backing and the surface of the shelving was mirrored and also had a glass shelf! More glam! Unfortunately, though, it wasn't lit. But I had every intention of researching that possibility.
I also loved the shelves on the doors. They were perfect for perfume bottles and other imaginary dressing-table-esque items! The hardware of these small shelves were so unique. Utterly 40s. All the parts were present, but plenty of rust spots and dirt.
Only then did I let myself dream about finishes and colours. I kept coming back to a deep orange. It'd stand out against the green and yet would at the same time, highlight the green.
In my mind's eye, a gold finish to hardware would complement the look.
It came out great, for an amateur furniture painter. I broke up with the paintbrush for this project and destroyed foam in the process. Stay tuned for Part 2!